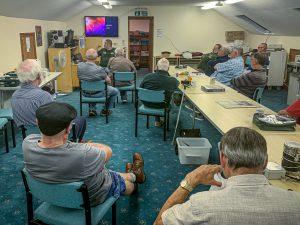 The Newport Amateur Radio Society received a presentation and live demo of how to access QO100 geostationary satellite by Mike (MW1EHW). The station equipment was setup at the GW4EZW Club QTH on the evening of Thursday 14th September.
Mike's setup was a 1.05m mesh dish on a portable speaker stand with a Bulleyes LNB, Ice Cone Feed v2 from Nolle.engineering. The transmission equipment was a Pluto+ SDR, 2.4GHz CN0417 pre-amp, SG-Labs 20W 2.4GHz power amplifier which is all based on a design from G7IVK.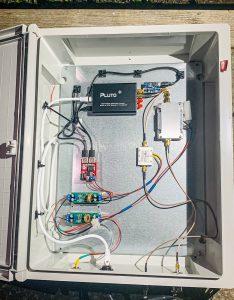 Control of the station involved a laptop with gigabit connectivity to the external control box containing the SDR and was controlled by SDR console.
The setup for the demo gave Mike a few challenges with the SDR console software as it was originally setting and calibrated on a desktop system at Mike's QTH. Some of the configuration was not successfully transferred like the duplex mode and drive/gain configuration.
Following the presentation Mike successfully completed his first QSO through the satellite with the station DL8SEK using the club callsign GW4EZW even with the transmission audio coming out of the wall mounted presentation tv.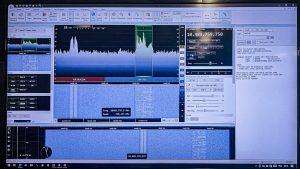 Thank-you to the NARS members who helped with the setup and taking down of the QO100 station.
You can find the presentation Mike used during the evening on the link below.