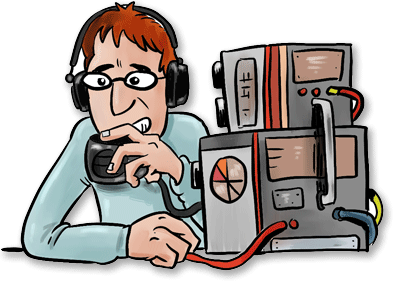 Contesting, for some is like a drug and there can never be enough, for others it can be annoying when the bands fill up with 59 73.
A top contester like our late Steve (GW4BLE) knew where to be at any given time enabling him to work those important multipliers. I looked at his CQ world wide logs which date back to 1972 the year I was born. In 2011 – 2nd in the world and 1st in Europe, 2012 – 4th in world, 2013 – 6th in world. Always in the top 10 or so as far as records show. Even when he was feeling very ill and could hardly get up the ladder to his shack in late 2016, he was 35th in the world 12th in Europe and 1st in Wales. This is his soapbox for his entry, his last soapbox, his very last contest.
Serious health issues in last couple of months. Major surgery in hospital and a long recuperation period but nothing was going to stop me for getting on in CQWW, THE CONTEST. Not well enough for the usual full-on SO2R so just a limited few hours in the 24 hour LP Classic. CU all next year for sure…GW4BLE
So recently some of us decided to enter the RSGB Autumn series contests and are having fun ironing out issues with the shack, checking our transmit audio, fettling the aerials, and getting our fingers crossed when messing about with macros. The autumn series is designed as a series of short evening contests (1.5hrs) on 3.5MHz, promoting competition between affiliated societies. Individual scores in every event count towards our club's overall score. A rolling listing is maintained on the contest committee HF contests web page. There are SSB, CW and datamode (PSK/RTTY) sections and all entries count towards the club's overall score. You can also see how you compare individually and there are low power (10W) and high power (100w)  sections.
Currently NARS is sitting at 9th out of 38 entered societies, fantastic considering we are not contesting experts and there are only a few of us.  On a personal level I am very happy with my first SSB attempt, beginner's luck no doubt, but out of 96 stations, I was placed joint 3rd !
So if you would like to join in for a bit of fun and enter the autumn series, an evening contest (weekday) for an hour and a half, then contact Steve (GW4OGO) or myself for some more info, or have a read up on the contest HERE .
Shortly we have the RSGB DX contest, on the 8th October from 5:00UTC through to 23:00UTC with both 12hr and 18hr sections. This would be a great contest to have a practice on in readiness for the CQ world wide at the end of October.
It would be great if a bunch of us could manage to enter the CQ World Wide contest in memory of Steve BLE and give it a shot. As you may know, there is a plaque dedicated to Steve Cole, the GW4BLE memorial which is presented to the top Europe station in the classic section. All details about the CQ WW contest are HERE.
Contesting is not for everyone, but it can become addictive. If you do enter, good luck !
73